Success Rate of Bridge vs. Dental Implant
Dental Implants vs. Bridge… Which is Better?
Dental Implants Have the Best Long-Term Success
Dental implants are designed to last a lifetime. In fact, dental implant treatment is the tooth replacement option with the highest documented success rates. Clinical studies over the past 40 to 50 years indicate that dental implant treatment has a success rate well over 95%.
Are you ready to replace your missing teeth and smile with confidence again?
Schedule your consultation today!
Call Temecula Facial Oral Surgery Phone Number 951-302-9100 with questions or to make an appointment.
Bridges and Partials Fail Over Time
The average lifespan of bridges published by the American Dental Association is just 10.1 years, primarily as a result of weakened tooth structure supporting the bridges. The teeth under the bridge are more susceptible to decay and fracture. Removable partial dentures typically last between 3 to 5 years and during that time they often need to be relined (made thicker) as the bone continues to resorb, or deteriorate.
Documented Clinical Results
Numerous studies in the scientific literature demonstrate that dental implants are 95% to 98% successful for periods of 40 to 50 years, depending upon various conditions, such as the general health of the patient, the quality and quantity of available bone, the number of teeth replaced and the type of replacement teeth.
Other studies comparing the success rates of bridges to individual crowns on teeth, clearly demonstrate that it is more successful to replace a single missing tooth with an implant and crown. These studies also indicate that even if the adjacent teeth need crowns, it is far more successful long-term to place individual crowns on these teeth rather than tying them into a bridge.
In contrast to dental implants, the success rates for bridges decrease over time. Other factors can decrease the lifespan of bridges even further, such as using teeth previously treatment with root canal therapy to support a bridge. Also, if more than one tooth is missing, creating a longer span to fill in the gap between teeth, bridges have an even lower success rate.
Dental implants are 95% to 98% successful for 40 to 50+ years.
Success rates for dental implants do not decrease over time.
Success rates for bridges decreases steadily after 10 years.
At 15 years, 1 in 3 bridges will typically fail.
Success rates decrease further if root canal teeth support bridges.
There are fewer complications with implants than bridges.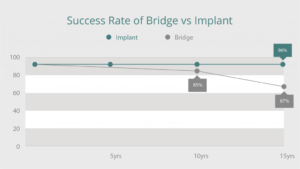 Source: https://thedentalimplantguide.org/resource/success-rates/
Call Temecula Facial Oral Surgery today to schedule your appointment ☎ Temecula Facial Oral Surgery Phone Number 951-302-9100
Comments are closed.